We recommend to buy a trip at our local travel's agent Poland Active. The University and the AIB-CEE Chapter as organizators are just only intermediaries to help you to contact the agent only. We are not responsible for any registration and financial transfers. Please book and pay for your trips on your own. We will help you to contact the agent and we can give you more pieces of advice if needed. 
If you have any questions, you might contact directly dr Adam Michalik (from Conference Local Organizing Committee) at michalia@uek.krakow.pl to get tips on your sightseeing and trips.
Poland Active specializes in organising trips in Poland, in which we put together different forms of active tourism. They would like to provide you with an opportunity to see Poland, learn about its rich history, culture and amazing natural attractions.
We recommend four trips
described below
Auschwitz Birkenau (UNESCO)
Wieliczka Salt Mine (UNESCO)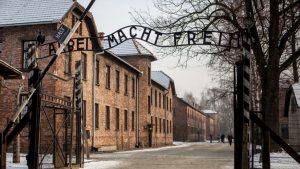 AUSCHWITZ – Known world-wide, the city's name is a symbol of martyrdom of the millions. It is located about 65 kilometres west of Cracow. The Nazis established the Auschwitz concentration camp in April 1940. Enlarged in the subsequent years, it became a site of mass genocide. Some 1.5 million people of 28 nationalities died here.

In 1979 the Oświęcim-Brzezinka (Auschwitz-Birkenau) concentration camp was entered onto the UNESCO World Heritage List. The site was turned into a museum in 1947, and is known as the Memorial to the Martyrdom of the Polish and Other Nations.

Twenty-eight one-storey brick blocks are found in the barbed-wire encampment of the older part which is entered through the gate with the inscription 'Arbeit Macht Frei' (Work Makes Free). In some of the blocks there is an exhibition which also shows such horrifying objects as piles of artificial limbs, eye-glasses, shoes, and suitcases once belonging to the victims.
The second part of the camp occupied the present district of Brzezinka (Birkenau). It is the largest cemetery in the world. Visitors can see some surviving barracks and the ruins of gas chambers and crematoria. The monumental Memorial to the Victims of Fascism was erected in order to pay homage to the millions of people murdered here.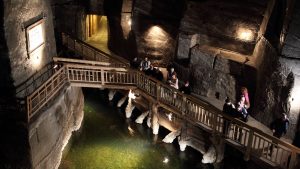 Salt Mine in Wieliczka is famous for its Europe's oldest salt mine, which has been operating for at least 700 years. The Wieliczka salt mine is a unique tourist attraction, on the UNESCO World Cultural Heritage List (it is listed among the twelve top sites). The mine has a labyrinth of tunnels, pits, and chambers, all hewn out by hand from solid salt, beautifully adorned chapels, underground lakes, all located on the three upper levels of the irmo from 64 to 135 meters below the ground. Tourists can enjoy the three kilometre long trail and collection of objects related to the mine and mining.
Salt from Wieliczka has curative pro­perties. It is rich in microelements, es­pecially magnesium compounds. Con­sumption of this salt eliminates exces­sive irritability and aggressive inclina­tions. It enhances mental activity and relieves states of nervous exhaustion. These and other properties of the Wieli­czka salt prompted the establishment of an underground sanatorium at 211 m. The exceptional microclimate is helpful in the treatment of different aillments, such as rheumatism and allergies. The Wieliczka sanatorium is well known in Poland as well as abroad.
The mine and the museum of Old Salt mines are toured with experien­ced guides, who are knowledgeable about the Mine's history as well as its legends and mysteries. The excellent sanatorium can be open to you if you contact the Poland Active. The underground tour takes about three hours.
Price: 129 PLN (ca. 30 EUR)/1 person
Price includes: transport, admission fees, guided tour of Aushwitz and Birkenau Museum.
Avarage time: 8 hours
Price: 139 PLN (ca. 33 EUR)/1 person
Price includes: transport, tickets, guided tour of Solt Mine in Wieliczka. Additional fee for taking photos and filming along the tourist route – 10 PLN.
Avarage time: 4 hours
Auschwitz + Salt Mine
(2 trips in one, both UNESCO)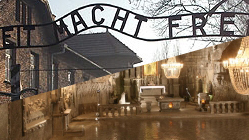 Oswiecim is a town located some 50 kilometers west of Krakow, in turn, known as a place of martyrdom, suffering and death of millions of lives, it's a grim witness to history. The concentration camp Auschwitz – Birkenau, also a UNESCO World Heritage Site, is one of the most popular objects in the vicinity of Krakow, Malopolska and the entire Polish.
Wieliczka is one of the most beautiful places in close proximity to the city. The famous UNESCO World Heritage Site, the salt mine, is visited every year thousands of tourists. Proximity to Krakow and good transport links make this area an attractive place to spend time.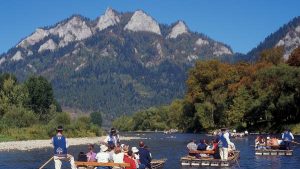 The Dunajec raft ride through the Pieniny Gaps one of the greatest tourist attractions in Poland. We can assure you that this time will be full of excitement. You will be impressed by the views of mountain peaks, the vertical rocky slopes next to the river, which takes unexpected turns. These will be lasting sensations.
Rafting down the Dunajec River is without doubt number-one attraction of the Pieniny. The narrow wooden canoes, roped by five into small platforms and steered by rafts men in folk costumes, have carrying tourists for well over a hundred years. The 15 km stretch of the Dunajec makes enormous bends, which snake down a scenic narrow gorge flanked by monumental slopes.
The Dunajec raft ride is by no means the only attraction. There are many inte­resting mountain trails on both sides of the Dunajec River, where you can ad­mire the Pieniny Mountains with beautifully set castles, Czorsztyn and Niedzica; in the latter a batch of very mys­terious Inka documents was found. The town of Szczawnica, well known for its mineral water springs, is also worth a visit.
Price: 250 PLN (ca. 60 EUR)/1 person
Price includes: departure from Cracow and next transport to Oświęcim then Wieliczka, sightseeing Salt Mine in Wieliczka and Death Camp Site Museum in Oświęcimiu with professional guide, transport by comfortable and air conditioned bus, free pick-up and drop -off from accomodation in Cracow, assistance of English speaking driver, admission fees, basic insurance
Avarage time: 10 hours
Price: 250 PLN (ca. 60 EUR)/1 person
Price includes: transport, tour leader assistance, admission fees to National Park and to the raft trip, basic insurance.

Avarage time: 7-8 hours
Communism Tour of Nowa Huta Kraków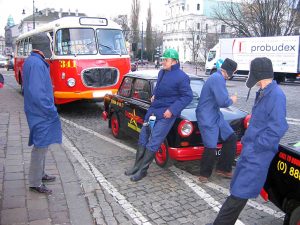 The Berlin Wall may have fallen, the Iron Curtain cracked, but many of Communism's most famous legacies are alive and well in Krakow. Visit and discover Krakow's centrally-planned Socialist district of Nowa Huta, complete with steelworks and houses built in the Renaissance style of the Soviets. This unique project was meant to be a model Communist city, but later came to be one of the centres of revolution and resistance within Poland. During our tour, you will travel back in time in a genuine Trabant automobile to experience the wonders of this one-of-a-kind city. Not only will you discover how the average Pole lived, worked and played under Communism, but stories and anecdotes from your laid-back local guide will bring the "good old days" back to life!
Price: up to 160 PLN (ca. 40 EUR)/1 person
Price includes: private approx. 2,5hrs tour, runs daily on request, hotel pick up/drop off in a vintage Trabant car, local, laid-back Crazy Guide, Nowa Huta district sightseeing (driving/walking), refreshments in a Communist restaurant.
Avarage time: 2,5 hours