The proceedings will be available just before the date of the conference:
Final Conference Program (PDF)
Conference Booklet (PDF)
Book of Abstracts (PDF)
The Conference Proceedings from our previous conferences.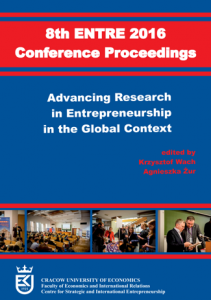 K. Wach & A. Żur (Eds.) (2016). Advancing Research in Entrepreneurship in Global Context: Conference Proceedings of the 8th ENTRE Conference. Krakow: Cracow University of Economics (ISBN: 978-83-65262-13-4).
All positively reviewed articles were released as 'conference proceedings' e-book with its own ISBN number. The published proceedings are listed in Web of Science (CPCI – Conference Proceedings Citation Index accessed via Web of Science™ Core Collection) operated by ISI Thompson Reuters / Clarivate Analytics.